Coverage support available for AUSTEDO
Affordability through financial assistance programs
~90% of patients pay $10 or less per month
for AUSTEDO1
AUSTEDO Copay Card:

As little as $0 copay per month for eligible, commercially insured patients*

AUSTEDO Free Trial Voucher:

Offer available for patients new to AUSTEDO (sampled patients are not eligible)*

Low-income subsidy (LIS):

Medicare Part D patients who qualify for and utilize the LIS may pay as little as $9.85 per month for AUSTEDO2
Free Trial Vouchers and Copay Cards* available for patients starting on AUSTEDO at www.AUSTEDOcardform.com.
Comprehensive coverage helps make AUSTEDO more accessible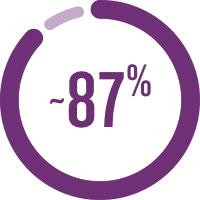 ~87% of prescriptions are successfully processed and approved1
Access for 90% of patients with insurance coverage (commercial, Medicare Part D, and Medicaid)1

Available at both specialty and retail pharmacies
Request a visit from a Patient Support Specialist who can help with access and reimbursement, prescription pull-through, and patient assistance support†
†If you don't have a Patient Support Specialist, reach out to your sales representative.
Prescription
coverage tool
Find health plans that cover AUSTEDO® (deutetrabenazine) tablets in your state
Find health plans that cover AUSTEDO® (deutetrabenazine) tablets in your state
Enter in a ZIP code or select a state, then select a plan type, select a plan, and click "Search."
Or
State
Alabama
Alaska
Arizona
Arkansas
California
Colorado
Connecticut
Delaware
District of Columbia
Florida
Georgia
Hawaii
Idaho
Illinois
Indiana
Iowa
Kansas
Kentucky
Louisiana
Maine
Maryland
Massachusetts
Michigan
Minnesota
Mississippi
Missouri
Montana
Nebraska
Nevada
New Hampshire
New Jersey
New Mexico
New York
North Carolina
North Dakota
Ohio
Oklahoma
Oregon
Pennsylvania
Puerto Rico
Rhode Island
South Carolina
South Dakota
Tennessee
Texas
Utah
Vermont
Virginia
Washington
West Virginia
Wisconsin
Wyoming
Plan Type
Commercial
DME MAC
EGWP
Employer
Fed Prog
FEHBP
HIX
IDN/HOSP
MAC A
MAC B
Managed Medicaid
Medicare MA
Medicare PDP
Medicare SN
Medi-Medi
Municipal Plan
PACE
PBM
Pvt HIX
State Medicaid
Union
Select Plan
NA, not available.
Please note that plans may have multiple formularies and they are subject to change by the plan. Please check with the health plan directly to confirm formulary status, requirements, and coverage information for individual patients.
Source: Fingertip Formulary database as of 03/2023.
This information is intended only to show the formulary coverage status for each product and should not be construed to make any comparisons of safety, efficacy or other clinical outcome.
*See Terms and Conditions on www.AUSTEDOcardform.com.
REFERENCES: 1. Data on file. Parsippany, NJ: Teva Neuroscience, Inc. 2. Medicare. Find your level of Extra Help (Part D). Accessed June 10, 2022. https://www.medicare.gov/your-medicare-costs/get-help-paying-costs/find-your-level-of-extra-help-part-d