Resources for each step of the treatment journey with AUSTEDO XR
Teva is committed to supporting you, your patients with tardive dyskinesia (TD), and their carepartners.
Downloadable resources
---
Downloadable resources for your patients with TD
Treatment Tracking Guide
A useful resource for patients as they begin their treatment journey. Patients and their carepartners can use this tracking tool to record when they take their treatment, as well as any changes in their TD.
Patient Brochure
This brochure provides answers to important questions your patients with TD and their carepartners may have when starting treatment.
Videos to help you support your patients with TD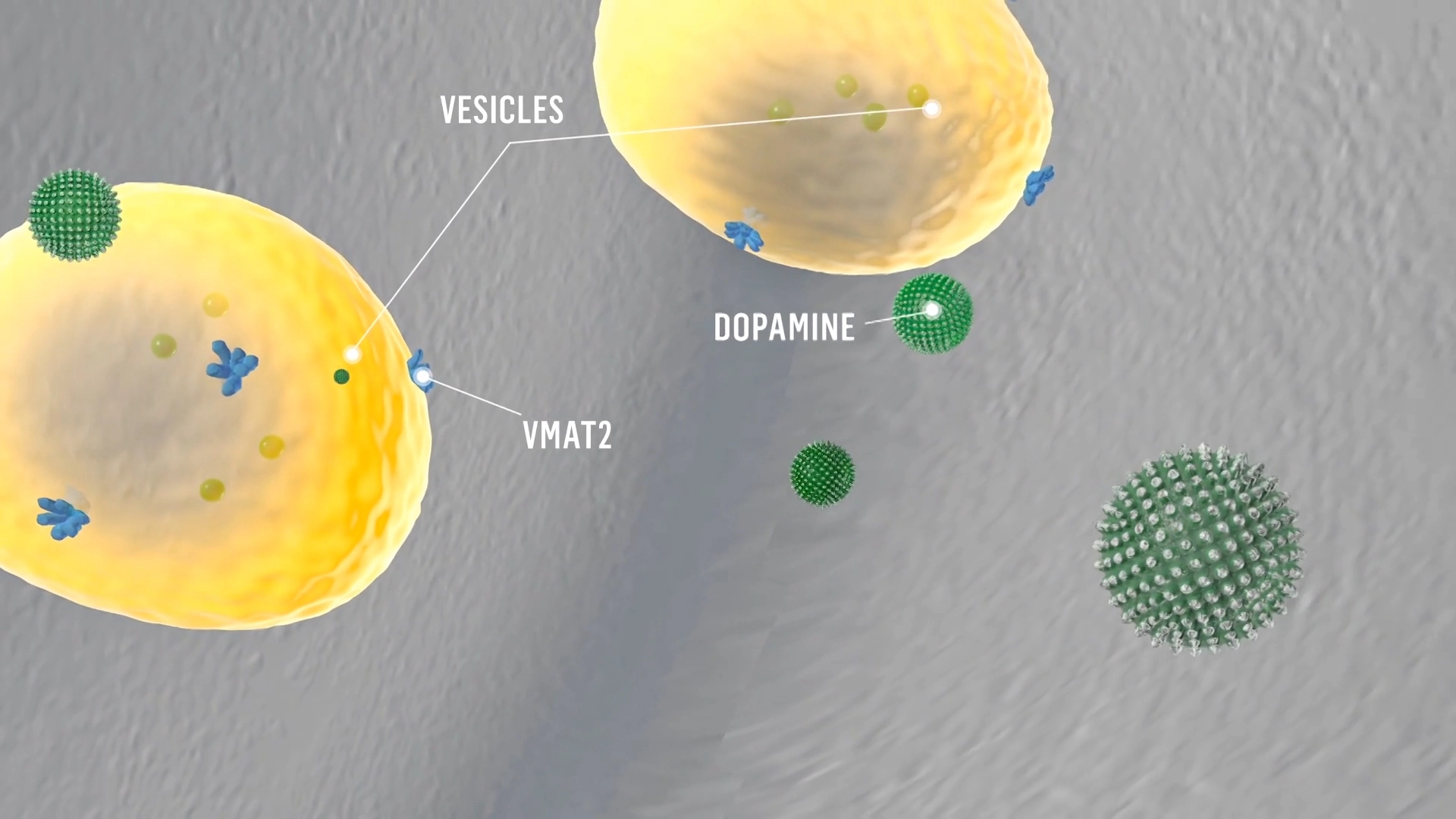 Mechanism of Action
VMAT2 inhibition can help regulate dopamine function.1
Improvement Over Time
See an update on Charlene and her treatment journey 2+ years later.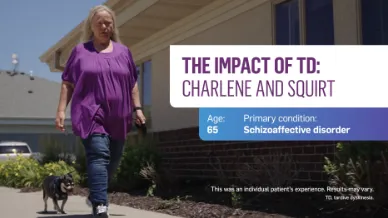 The Impact of TD: Charlene and Squirt
When Charlene's TD was at its worst, the movements in her hands, legs, and feet got in the way of her caring for her best friend, Squirt. See why AUSTEDO was the right move for her.
---
Faces of TD: Patient case studies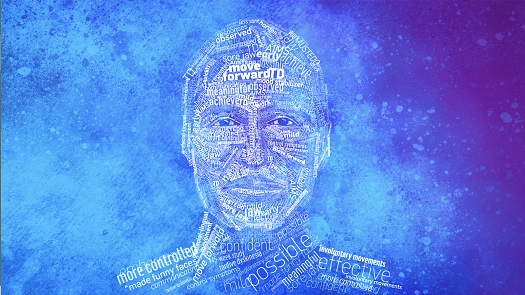 Brian, a patient with bipolar disorder, who has had his routine disrupted by TD.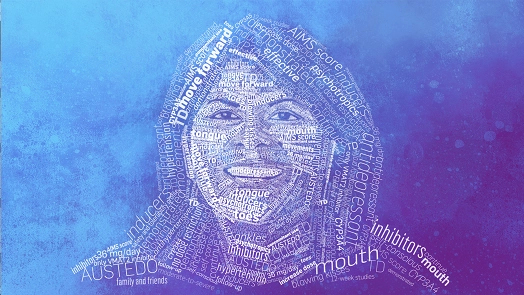 Patricia, a patient with major depressive disorder, who is also taking an antihypertensive.
---
TD Talks: Informative videos on TD evaluation and treatment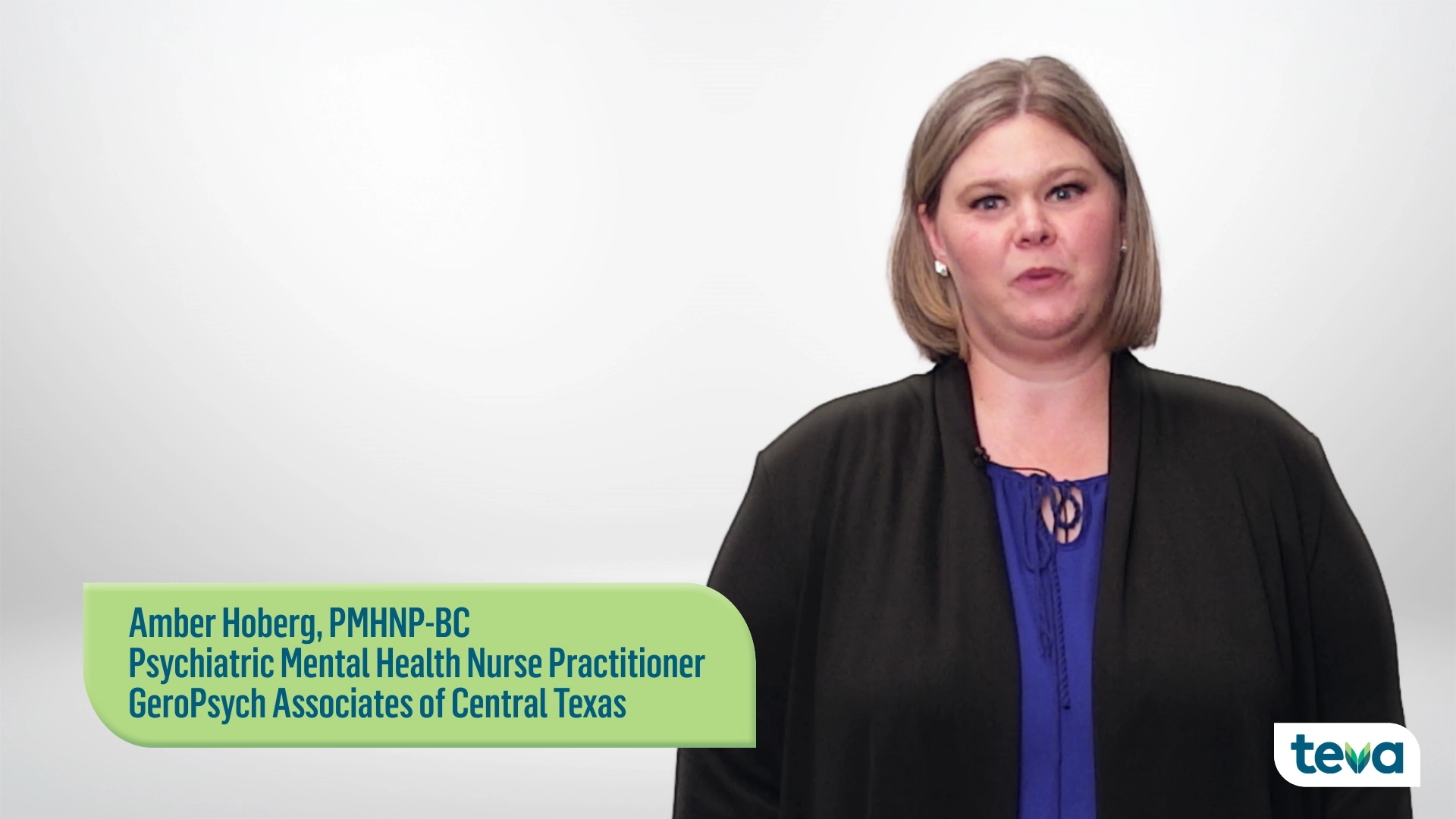 Amber Hoberg, PMHNP-BC, discusses the importance of assessing and managing TD.
---
Demystifying EPS: TD Is Distinct—a 3-part series on the importance of differential diagnosis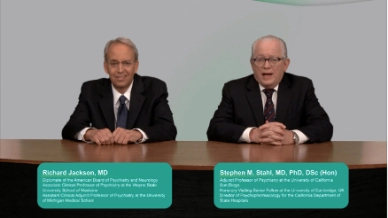 Chapter 1: Considering the landscape of antipsychotic usage.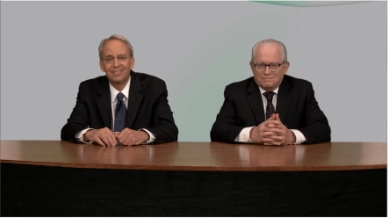 Chapter 2: Opposing mechanisms of TD and drug-induced parkinsonism (DIP).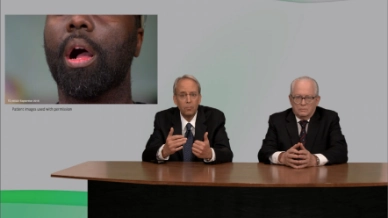 Chapter 3: Differential diagnosis of TD.
---
TD virtual assessments, demonstrated by Dr. Arvinder Walia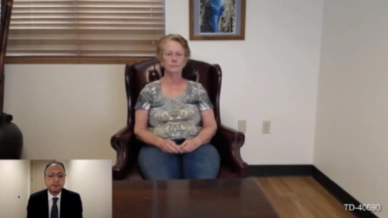 A long virtual assessment, with full view of the patient's body.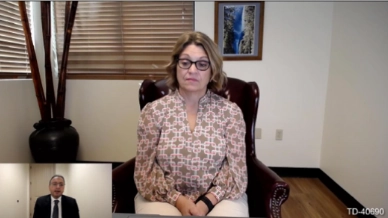 A short virtual assessment, without full view of the patient's body.
For more videos, visit the YouTube page.
Sign up for email updates
EPS, extrapyramidal symptoms; VMAT2, vesicular monoamine transporter 2.
REFERENCE: 1. Solmi M, Pigato G, Kane JM, Correll CU. Treatment of tardive dyskinesia with VMAT-2 inhibitors: a systematic review and meta-analysis of randomized controlled trials. Drug Des Devel Ther. 2018;12:1215-1238.